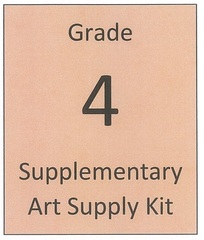 Supplementary Kit - Grade 4
The Grade 4 Supplementary Art Supply Kit provides required supplemental materials for 50 Grade 4 Arts Attack students for 1+ years. It contains the following materials that are not part of the Basic Consumables Kit: tempera paint (4 new colors), stovepipe wire, a collection of natural feathers, printing ink (6 colors), spray varnish. The weight of the Grade 4 Supplementary Art Supply Kit is 20 lbs.
Please note: If you order Art Supply Kits online, the price will not include shipping costs, which will be billed separately. In most cases, Art Supply Kits will be shipped by Common Carrier; and we will have several shipping firms competing to give you the lowest possible cost. Please contact us at info@artsattack.com for a shipping quote before placing your order. In most cases, we will be able to quote a shipping cost for your entire art supplies order within 24-48 hours.